T25L-R MKII
2200 LED lumen powered by CREE XHP35 HD E4 LED
Three brightness levels,programmable tail-cap strobe feature
Battery level report system
Type-C USB fast charging
Forward clicky on/off tailcap switch
Uses protected 18650 li-ion battery (18650 3500mAh battery included)
437 yards / 400 meters maximum beam distance
Up to 1.2 hrs on MAX output, 25 hrs on low output
Compare
Description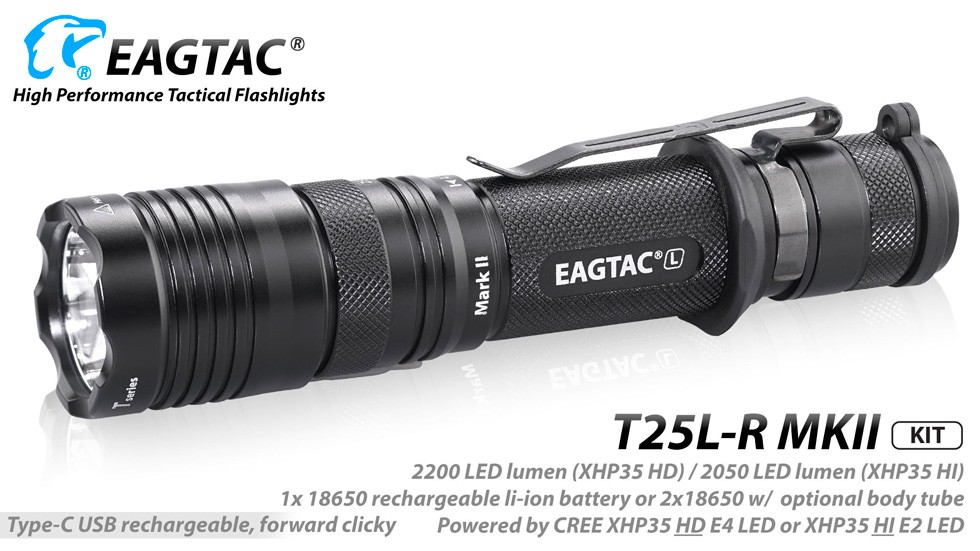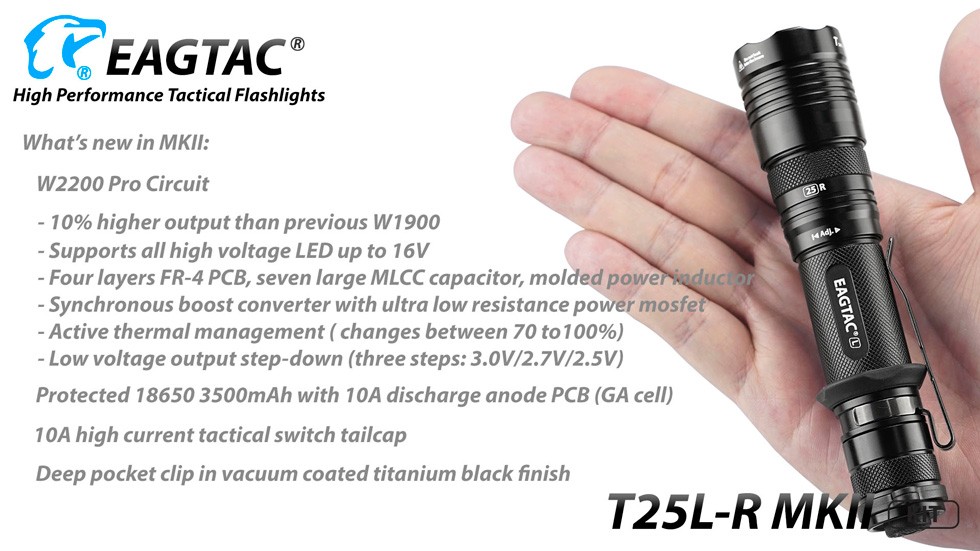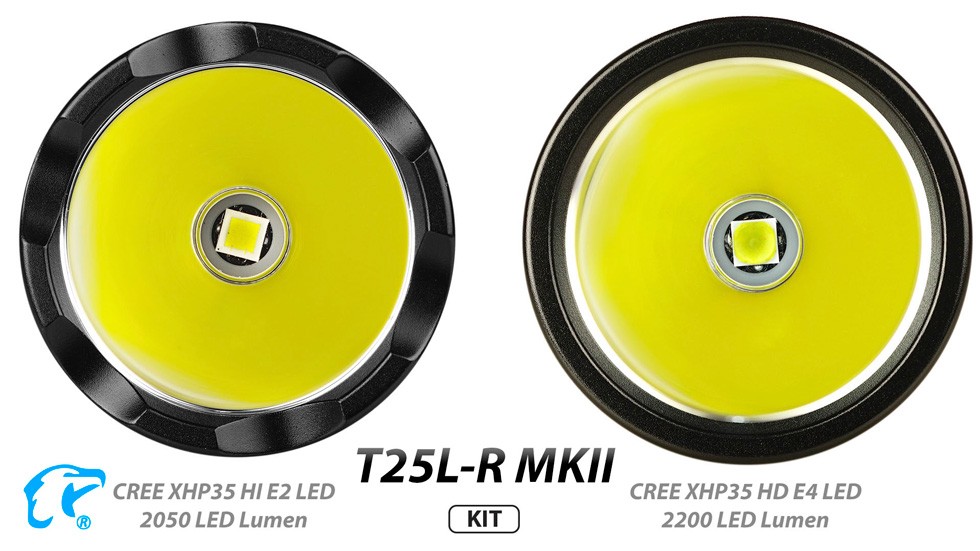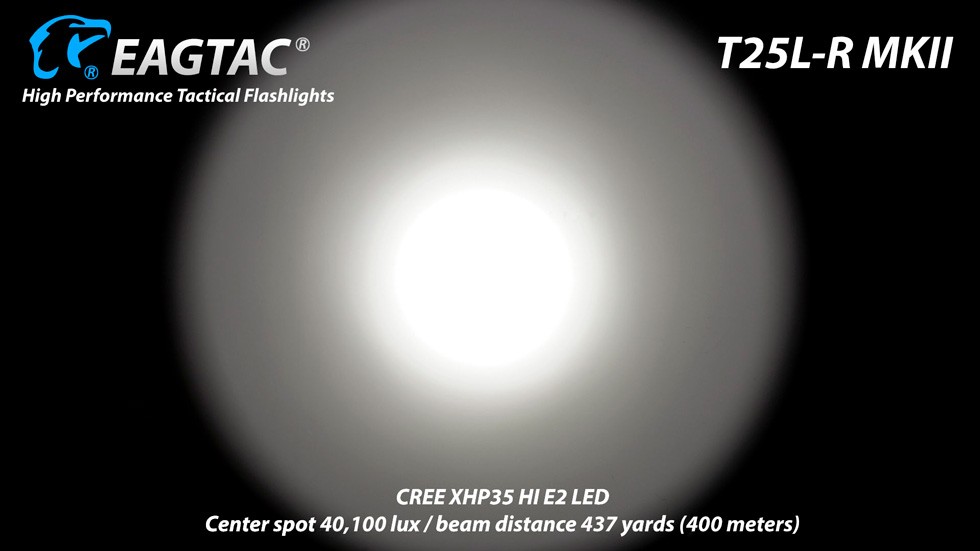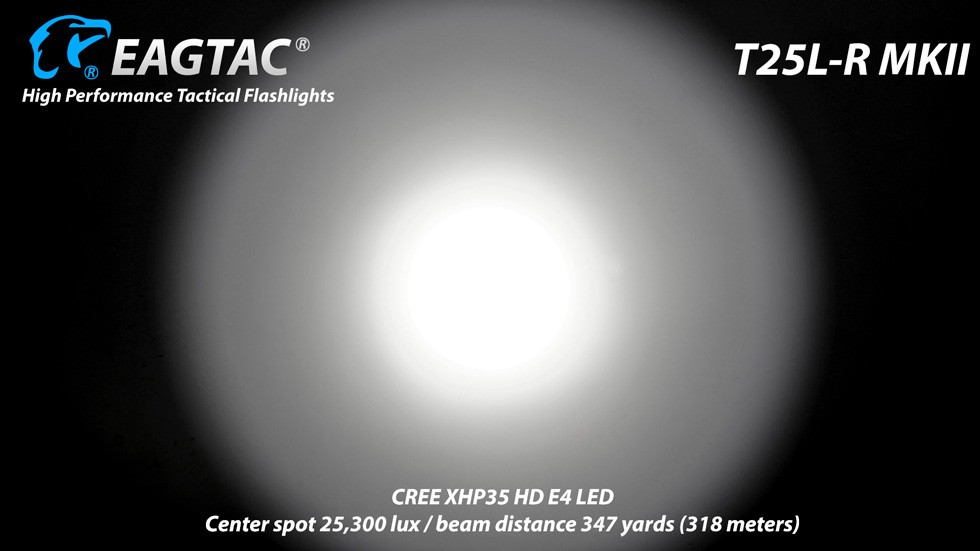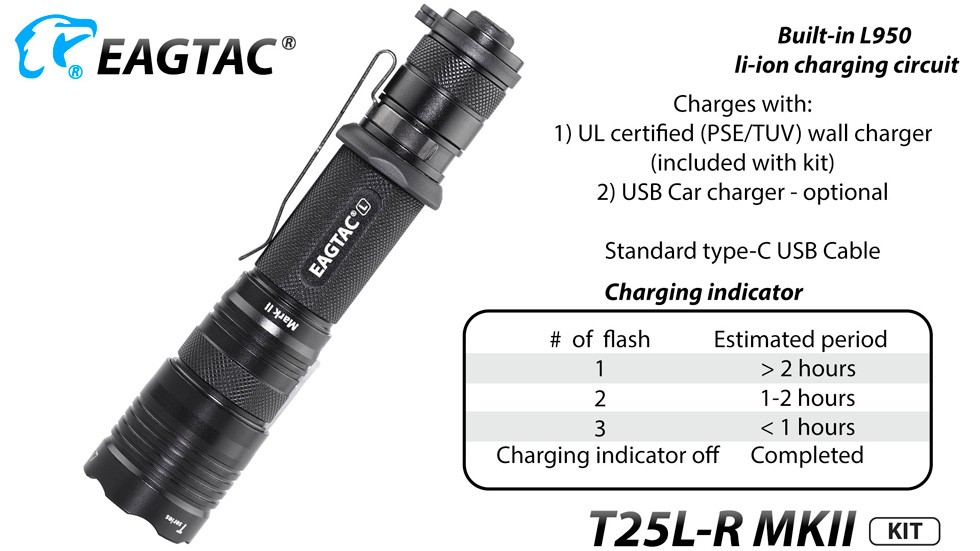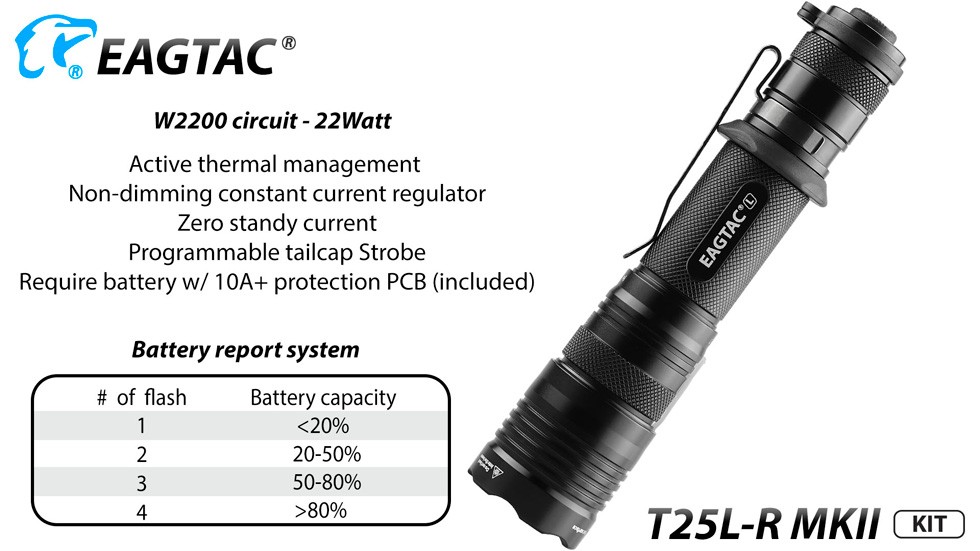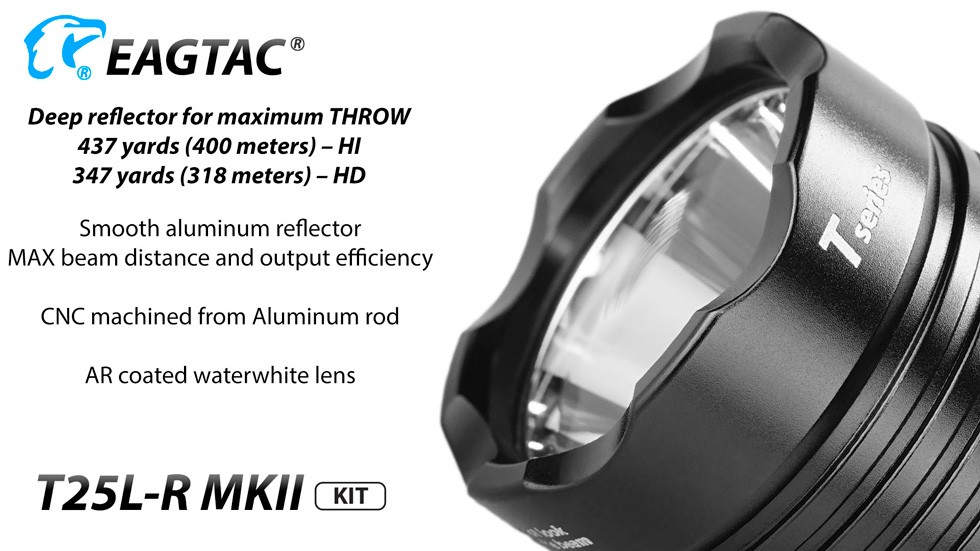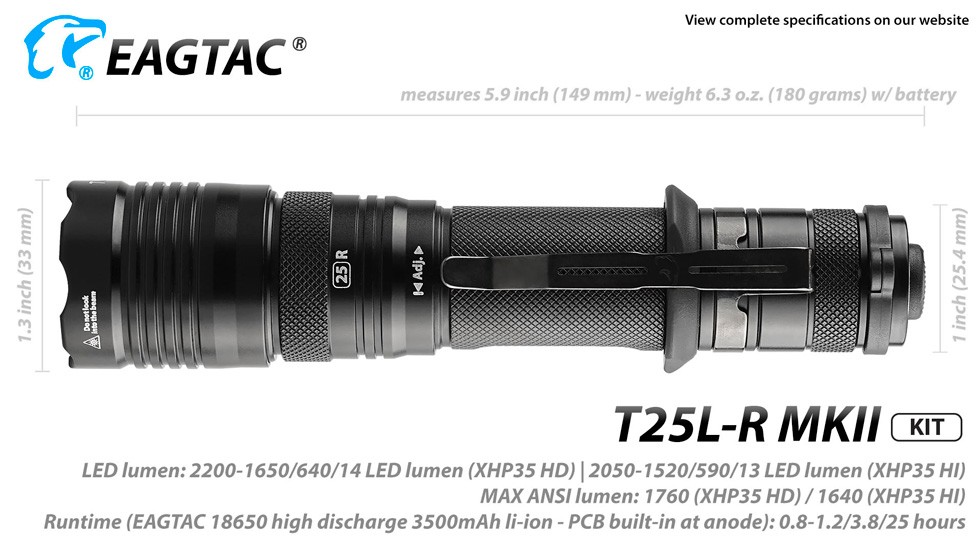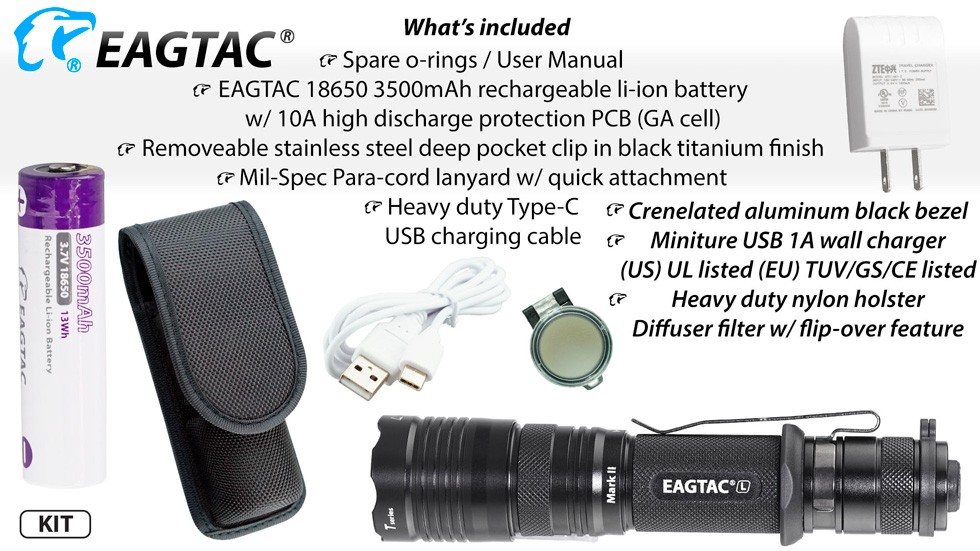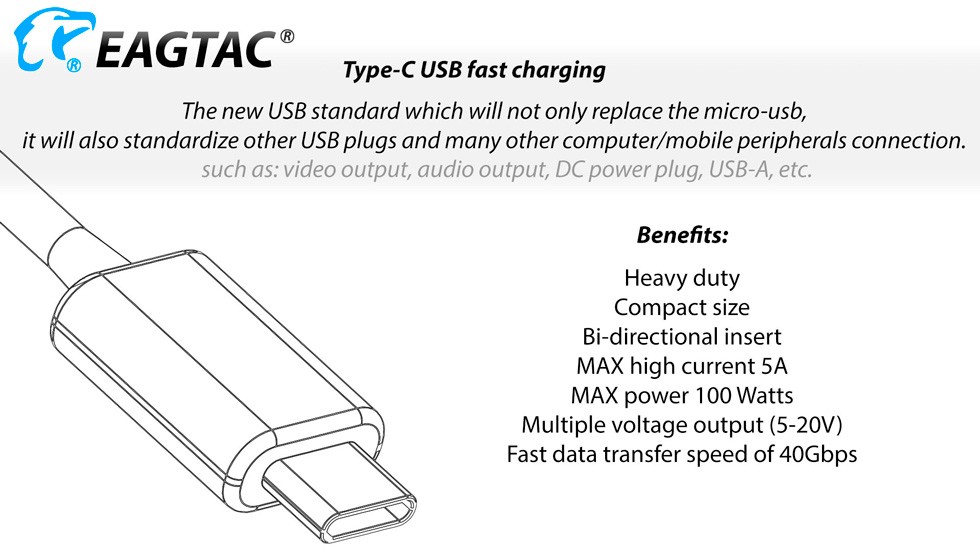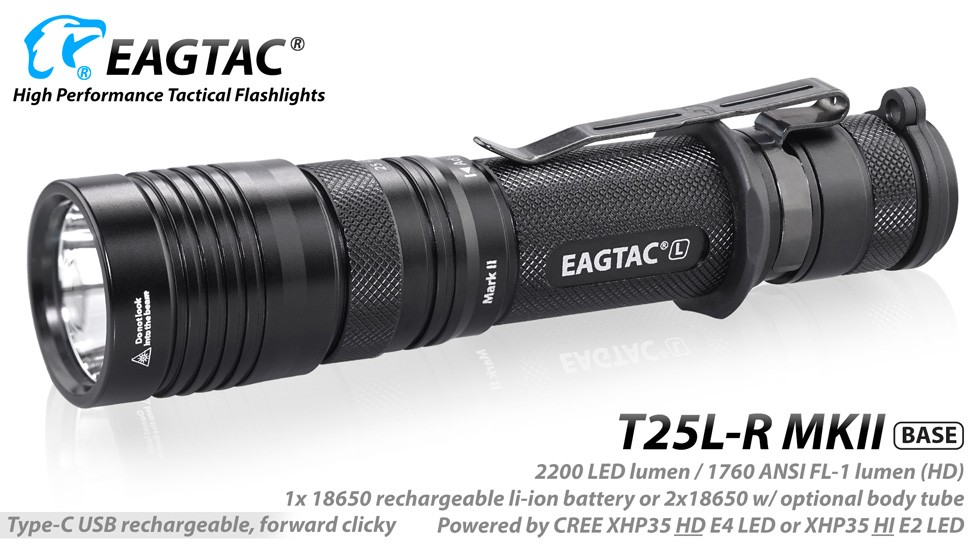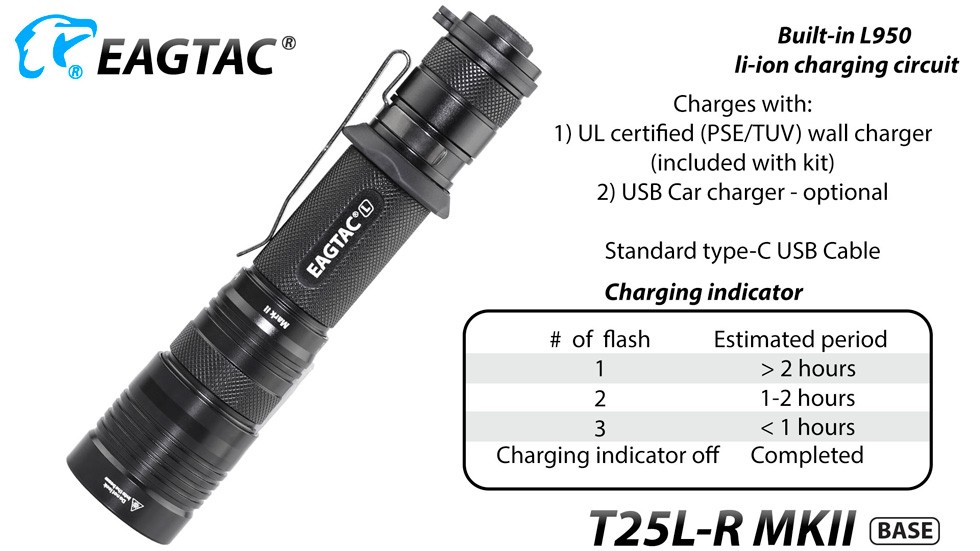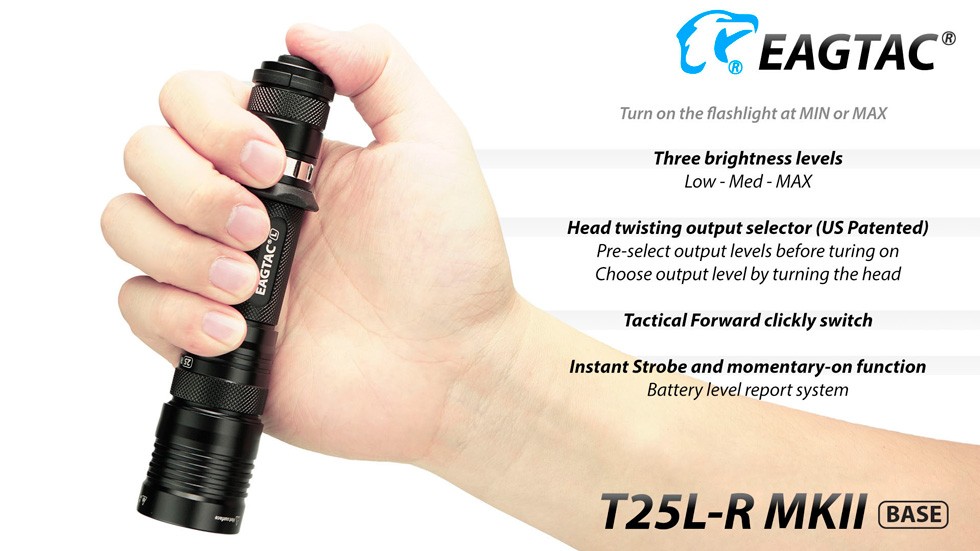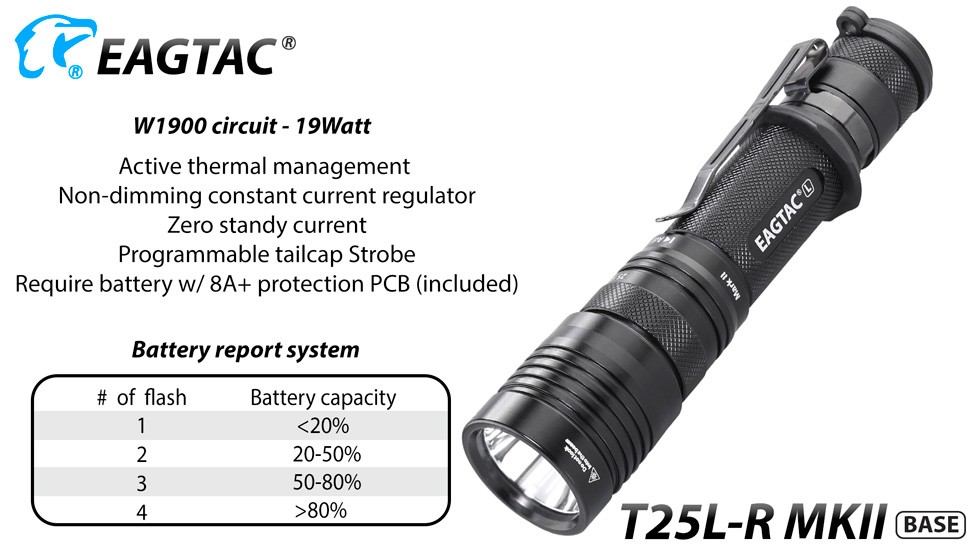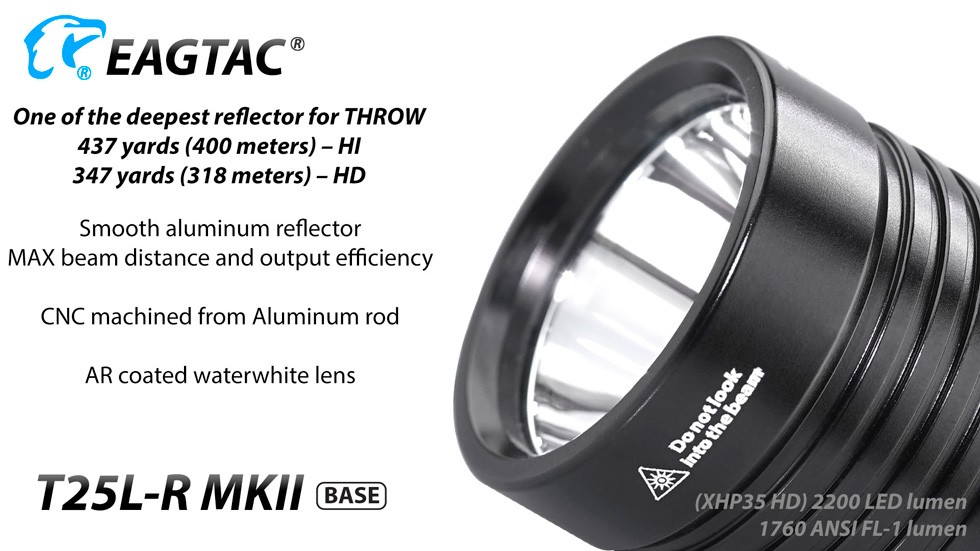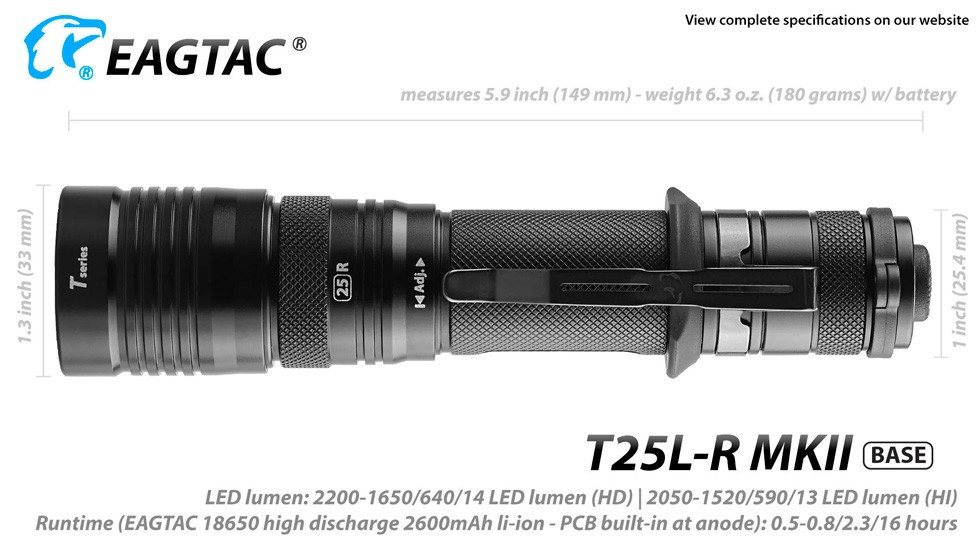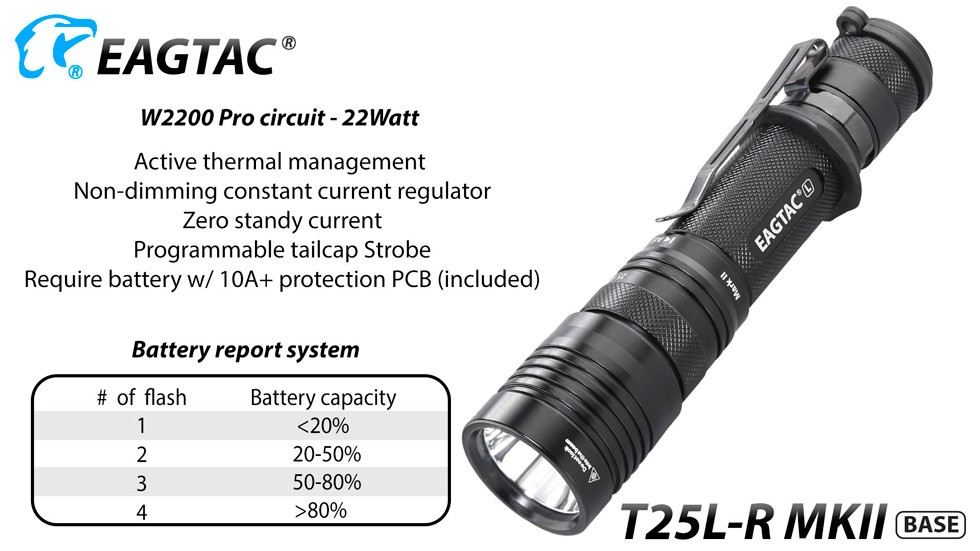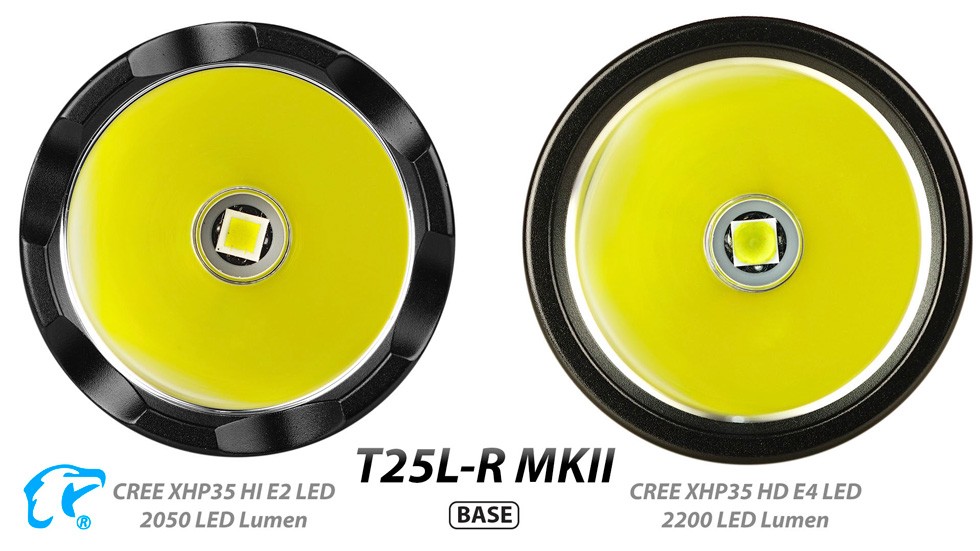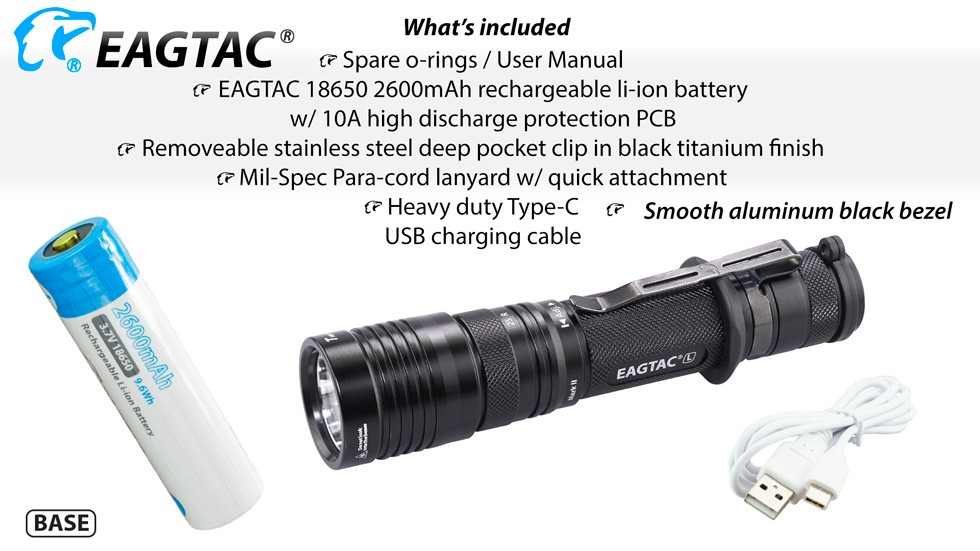 Additional information
Performance
| | |
| --- | --- |
| LED | CREE XHP35 HD E4 LED (2200) |
| Max output | – |
| Center lux @ 1 meter | 25,300 lux |
| Beam distance | 347 yards / 318 meters |
| Output levels | 2200-1650/640/14 LED lumen /1760-1350/400/40 ANSI lumen |
| Runtime | 0.8-1.2/3.8/25 hrs |
Battery
| | |
| --- | --- |
| Battery Type | 18650*1 |
| Battery included | – |
| Built-in rechargeable | – |
| Operating voltage | 2.7V – 4.2V |
| Battery requirement | – |
Control
| | |
| --- | --- |
| Control Type | – |
| Hidden auxiliary outputs | – |
Dimensions
| | |
| --- | --- |
| Body Diameter | 1 inch (25.4 mm) |
| Head Diameter | 1.3 inches (33 mm) |
| Length | 5.9 inches (149 mm) |
| Weight w/o battery | 4.6 ounces (130 grams) |
| Weight w/ battery | 6.3 ounces (180 grams) |
Constructions
| | |
| --- | --- |
| Flashlight Body Material | HAIII hard anodization aerospace aluminum |
| Lens | Harden waterwhite glass lens with anti-reflective coating on both side |
| Reflector | Smooth aluminum reflector |
| Waterproof | IPX-8 |
Optional LED1
| | |
| --- | --- |
| LED (1) | CREE XHP35 HI E2 LED (2050) |
| Max output (1) | – |
| Center lux @ 1 meter (1) | 40,100 lux |
| Beam distance (1) | 437 yards / 400 meters |
| Output levels (1) | 2050-1520/590/13 LED lumen /1640-1250/370/37 ANSI lumen |
| Runtime (1) | 0.5-0.8/2.3/16 hours |
Optional LED2
| | |
| --- | --- |
| LED (2) | CREE XHP35 HD E2 Neutral White LED |
| Max output (2) | 2050 LED lumen / 1640 ANSI lumen |
| Center lux @ 1 meter (2) | – |
| Beam distance (2) | – |
| Output levels (2) | 2050-1535/600/13 LED lumen / 1640-1260/372/37 ANSI lumen |
| Runtime (2) | 0.8-1.2/3.8/25 hrs |
Optional LED3
| | |
| --- | --- |
| LED (3) | CREE XHP35 HI D4 Neutral White LED |
| Max output (3) | 1905 LED lumen / 1525 ANSI lumen |
| Center lux @ 1 meter (3) | – |
| Beam distance (3) | – |
| Output levels (3) | 1906-1414/550/12 LED lumen / 1525-1163/344/34 ANSI lumen |
| Runtime (3) | 0.8-1.2/3.8/25 hrs |
How to use?
Basic operations:
Turn on the flashlight by pressing the tailcap button until it clicks.
Twist the head to select between three output levels.
You can pre-selected any output level before turning on the light.
Advanced operations:
Tail strobe feature (off by default): Switch to 1st level and turn the flashlight on and off 20 times (one second or less between each click) to toggle this feature. With the tailcap strobe setting enabled, a double press of the switch button (within one second) will activate the strobe output.
Charging:
Remove the waterproof cover and insert the included type-c charging cable to charge the battery. User must turn on the flashlight switch at the tailcap to charge.
Flashlight will switch off the LED output during charge until the charging is completed. Restart the flashlight or switch to other brightness level to wake the flashlight with cable removed.
To check the charging progress anytime during charge, turn the head of the flashlight to wake the charging level report.
Maximum charging time for a depleted battery: 2.5-3 hrs (2600mAH 18650 li-ion), 3.5-4 hrs (3500mAh 18650 li-ion)
Includes
Accessories – Kit:

Accessories – Base: