DX3B Clicky
2500 LED lumen powered by CREE XHP50.2 K2 LED
Five brightness levels + hidden AUX modes; Programmable start-up level
Instant MAX/MIN output (programmable)
Side switch + tactical forward clicky on/off tailcap switch
Micro-USB 1A fast charging
Tail strobe feature
Charing level and battery level report
Includes protected 18350 li-ion battery (10A)
185 yards / 170 meters maximum beam distance
Up to 0.45 hrs on MAX output, 85 hrs on low output
Compare
Description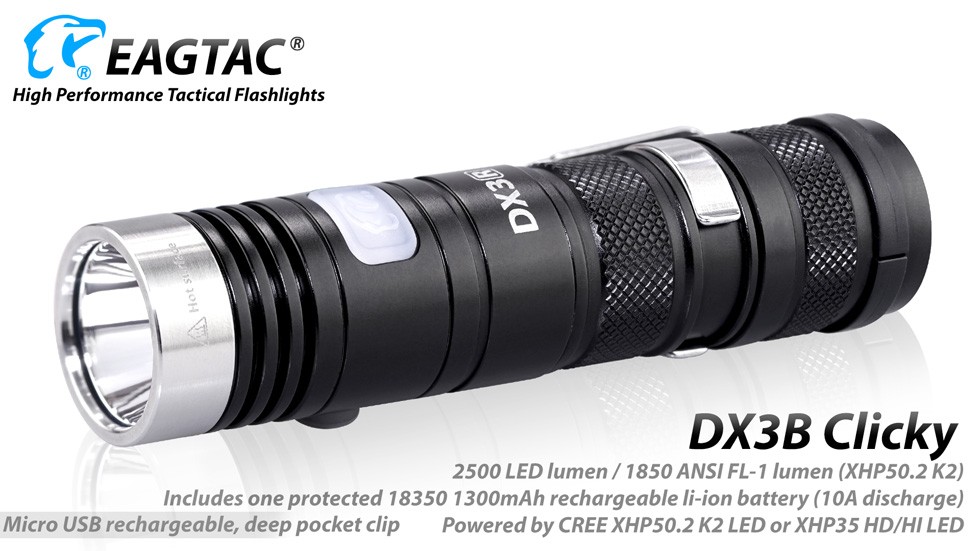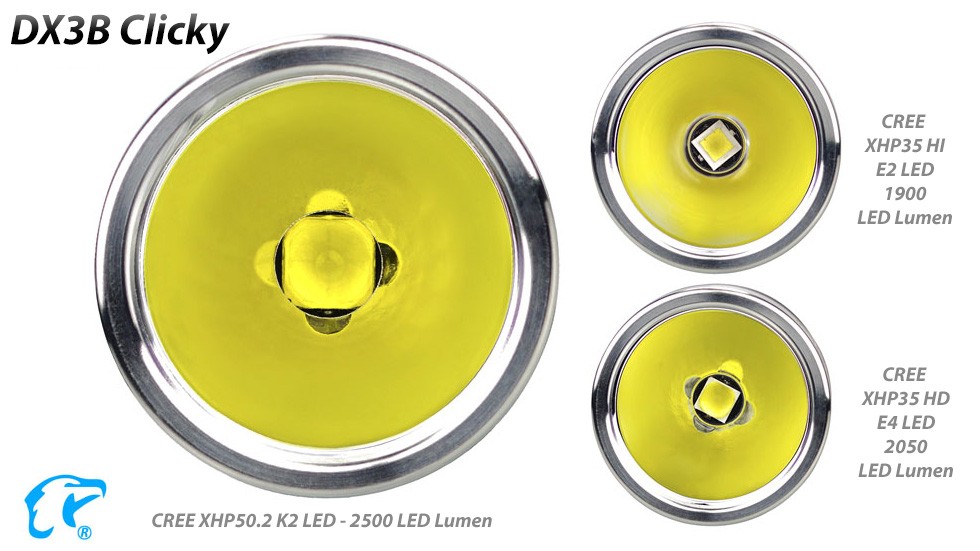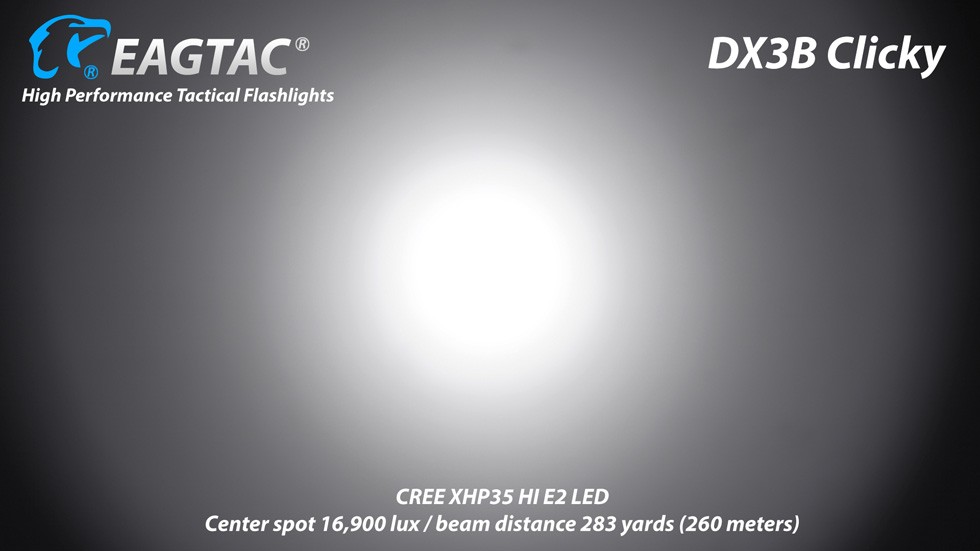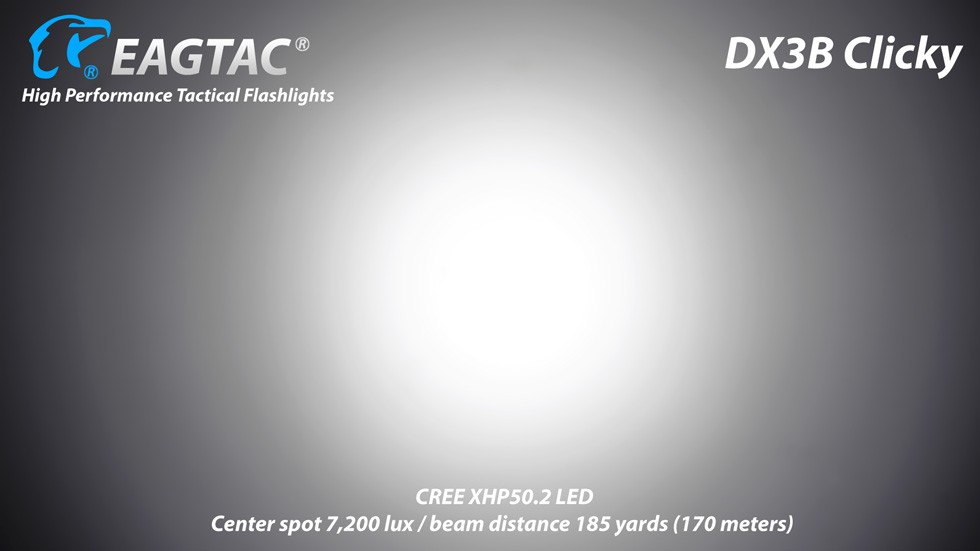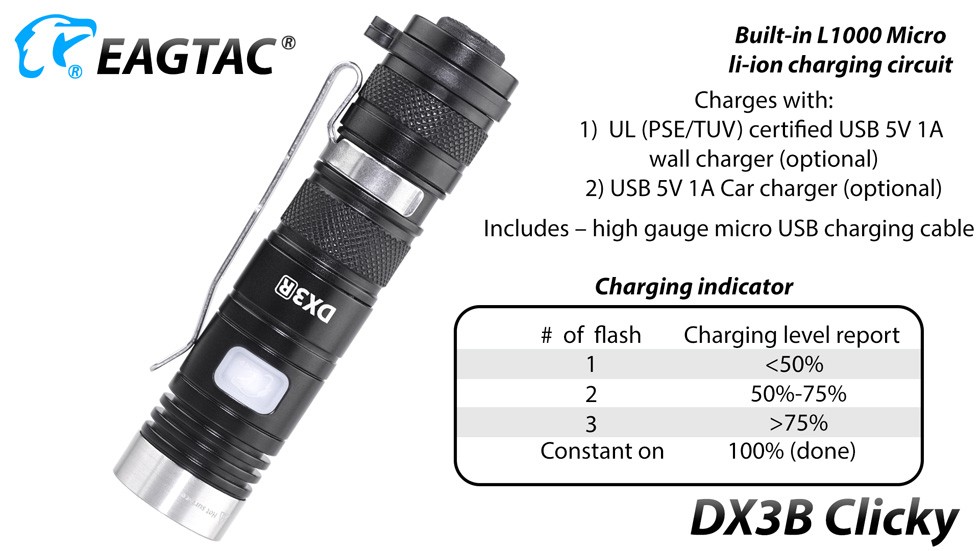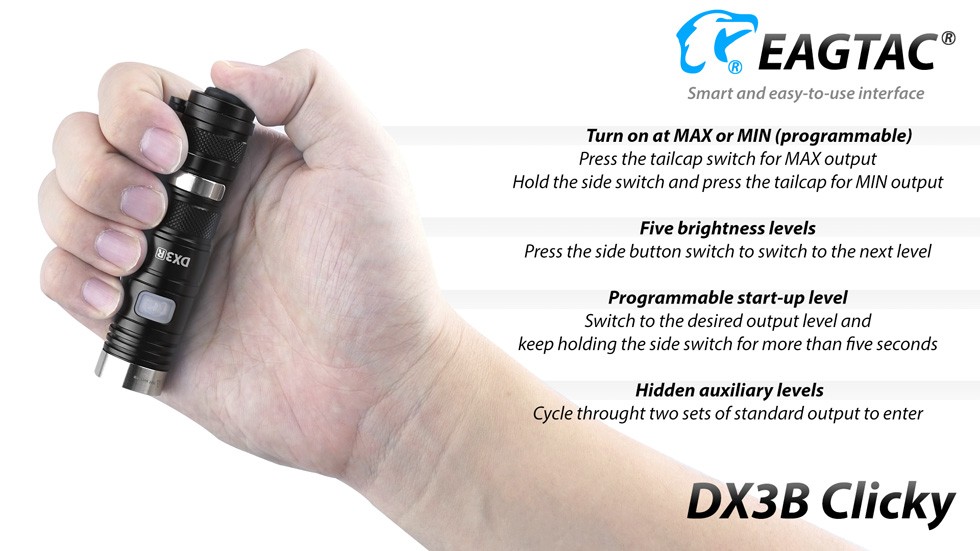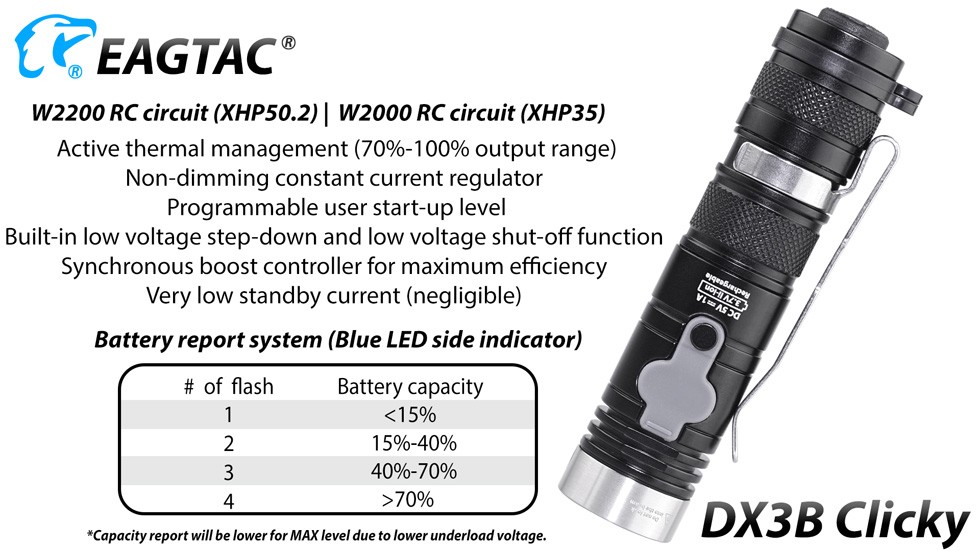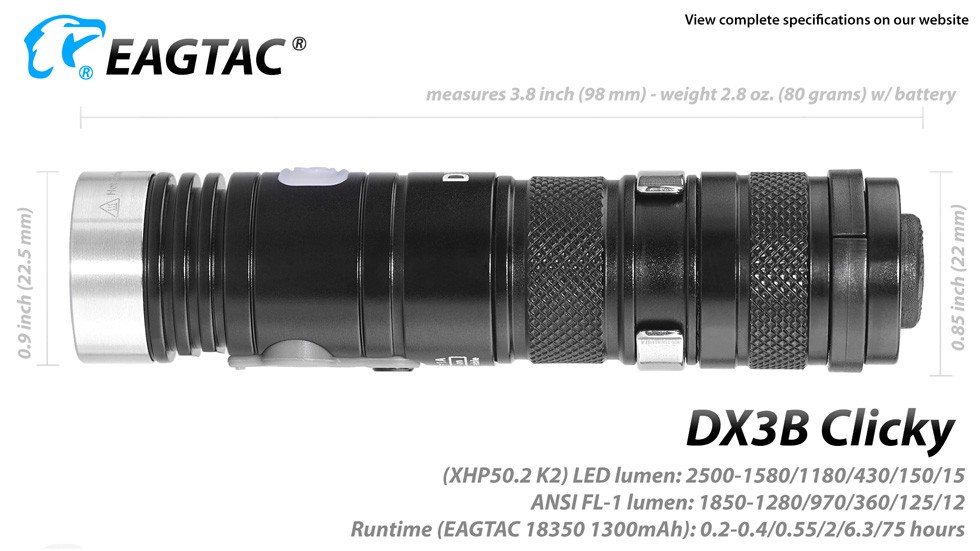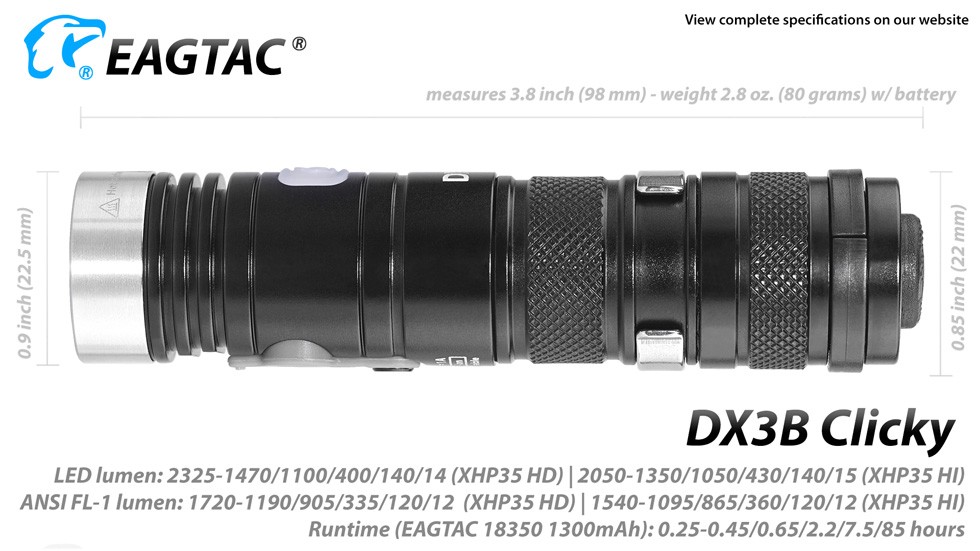 Additional information
Performance
| | |
| --- | --- |
| LED | CREE XHP50.2 K2 Cool White LED |
| Max output | 2500 LED lumen / 1850 ANSI lumen |
| Center lux @ 1 meter | 7200 lux |
| Beam distance | 185 yards / 170 meters |
| Output levels | 2500-1580/1180/430/150/15 LED lumen / 1850-1280/970/360/125/12 ANSI lumen |
| Runtime | 0.2-0.4/0.55/2/6.3/75 hours |
Battery
| | |
| --- | --- |
| Battery Type | 18350*1 |
| Battery included | – |
| Built-in rechargeable | – |
| Operating voltage | 2.7V – 4.2V |
| Battery requirement | – |
Control
| | |
| --- | --- |
| Control Type | – |
| Hidden auxiliary outputs | Disorienting Strobe / Beacon (1.67Hz) |
Dimensions
| | |
| --- | --- |
| Body Diameter | 0.85 inches (22 mm) |
| Head Diameter | 0.9 inches (22.5 mm) |
| Length | 3.8 inches (98 mm) |
| Weight w/ battery | 2.8 ounces (80 grams) |
Constructions
| | |
| --- | --- |
| Flashlight Body Material | HAIII hard anodization aerospace aluminum |
| Lens | Harden waterwhite glass lens with anti-reflective coating on both side |
| Reflector | Smooth aluminum reflector |
| Waterproof | IPX-8 |
Optional LED1
| | |
| --- | --- |
| LED (1) | CREE XHP50.2 J4 Neutral White LED |
| Max output (1) | 2325 LED lumen /1720 ANSI lumen |
| Center lux @ 1 meter (1) | – |
| Beam distance (1) | – |
| Output levels (1) | 2325-1470/1100/400/140/14 LED lumen /1720-1190/905/335/120/12 ANSI lumen |
| Runtime (1) | 0.2-0.4/0.55/2/6.3/75 |
Optional LED2
| | |
| --- | --- |
| LED (2) | CREE XHP35 HD E4 Cool White LED |
| Max output (2) | 2050 LED lumen / 1540 ANSI lumen |
| Center lux @ 1 meter (2) | 9800 lux |
| Beam distance (2) | 216 yards / 198 meters |
| Output levels (2) | 2050-1350/1050/430/140/15 LED lumen / 1540-1095/865/360/120/12 ANSI lumen |
| Runtime (2) | 0.25-0.45/0.65/2.2/7.5/85 hours |
Optional LED3
| | |
| --- | --- |
| LED (3) | CREE XHP35 HI E2 Cool White LED |
| Max output (3) | 1900 LED lumen / 1425 ANSI lumen |
| Center lux @ 1 meter (3) | 16900 lux |
| Beam distance (3) | 283 yards / 260 meters |
| Output levels (3) | 1900-1230/950/380/125/13 LED lumen / 1425-980/760/305/100/10 ANSI lumen |
| Runtime (3) | 0.25-0.45/0.65/2.2/7.5/85 hours |
How to use?
Basic operations:
Turn on the light at MAX output by pressing the tailcap button until it clicks.
Turn on the light at lowest output (programmable) by holding the side switch button while pressing the tailcap button until it clicks.
For momentary on function, slightly press the tailcap button
To switch between different brightness levels, press the side button switch w/ flashlight on
To enter hidden auxiliary mode, press the side switch to cycle through two sets of standard output level to enter
Advanced operations:
Programmable start-up feature: To program the lowest output start-up level to any other level, press the hold the side switch for at least five seconds at other output level to set it as the start-up output level.
Tail strobe feature: Turn the flashlight on and off 20 times (one second or less between each click) to toggle this feature. With the tailcap strobe setting enabled, a double press of the switch button (within one second) will activate the strobe output.
Charging:
Remove the waterproof silicon cap, insert the charging power plug, and turn on the flashlight tailcap switch to charge.
Blue side LED indicates the battery is being charged. It reports charging percentage by blinking.
When charging is done, remove the charging power plug and turn off the flashlight tailcap switch (wait for a few seconds to let the flashlight circuit to reset itself from charging lock-out status to normal status).
When forcing the flashlight to start in high output mode using depleted battery, flashlight will blink to warn user that the battery is unable to keep up the high power input demand. User should switch to lower output and charge the battery as soon as possible.
Includes
Included items:

Optional accessories: