DX3B Mini Pro
2480 LED lumen powered by CREE XHP50.2 K2 LED
Five brightness levels with side control switch
Tactical forward clicky on/off tailcap switch
Micro-USB fast charging
Includes protected 18350 li-ion battery (10A)
180 yards / 165 meters maximum beam distance
Up to 0.25 hrs on MAX output, 20 hrs on low output
Compare
Description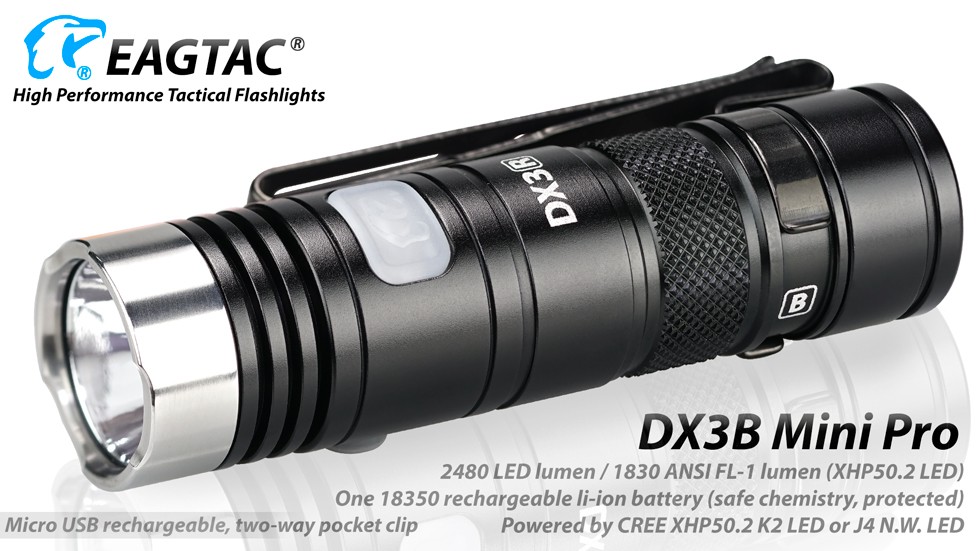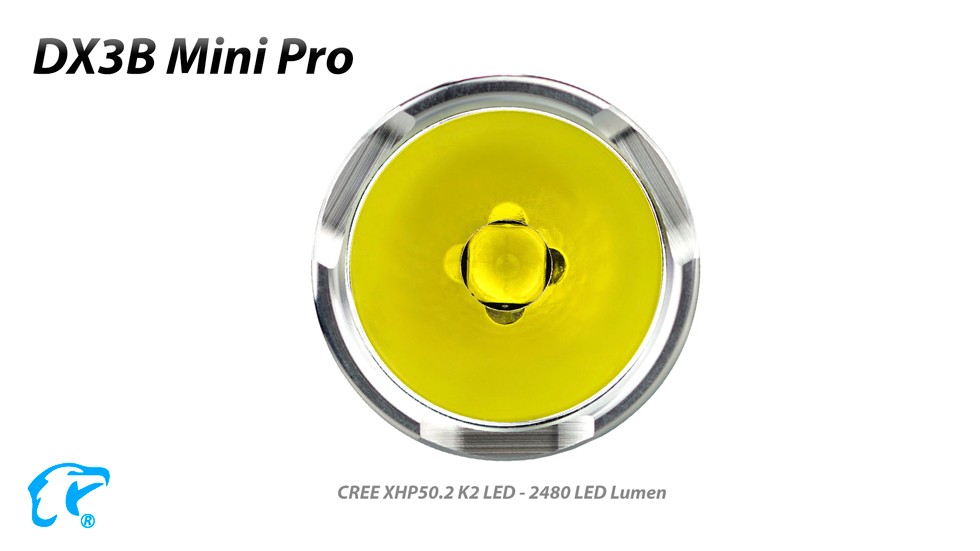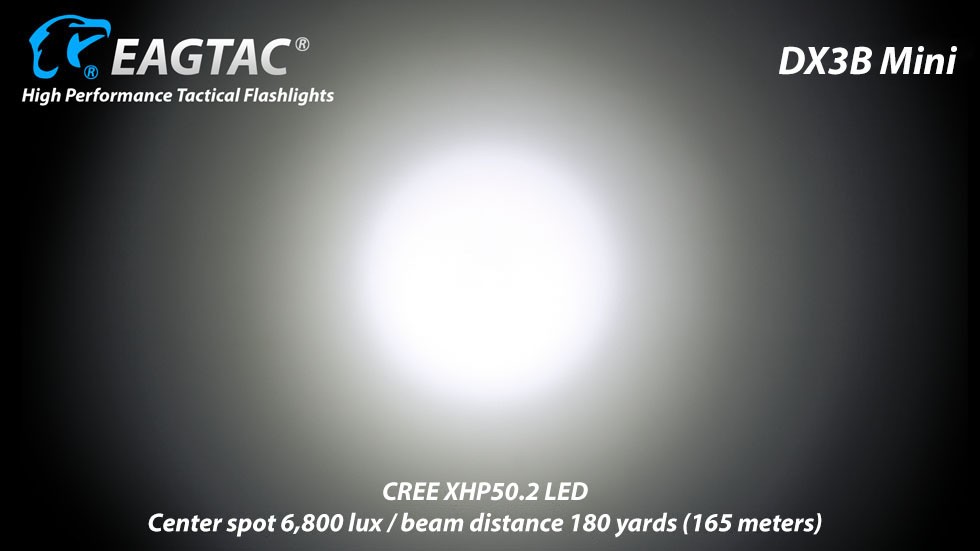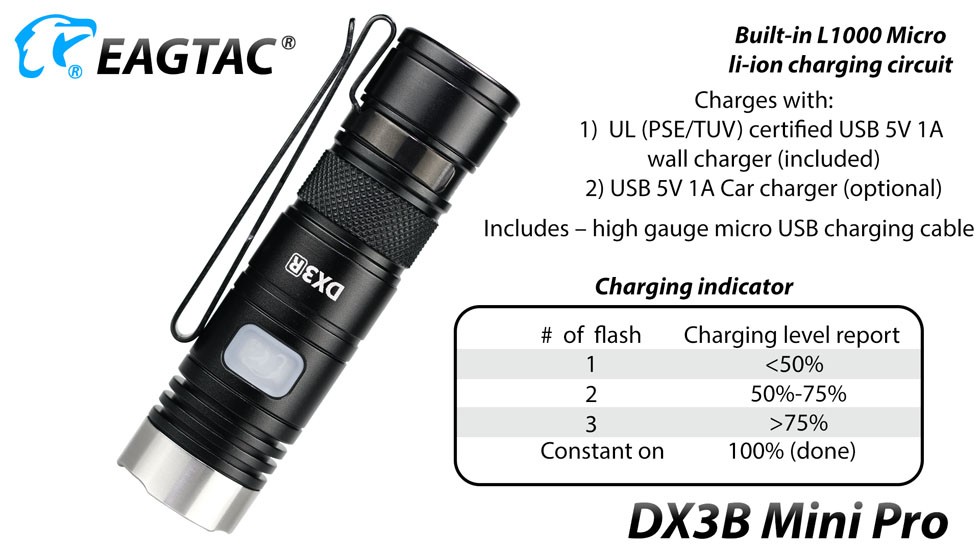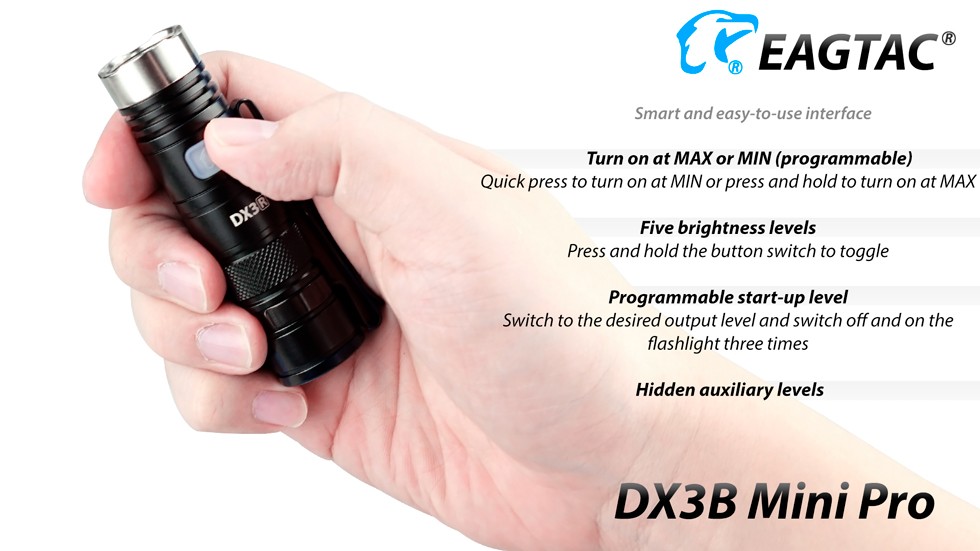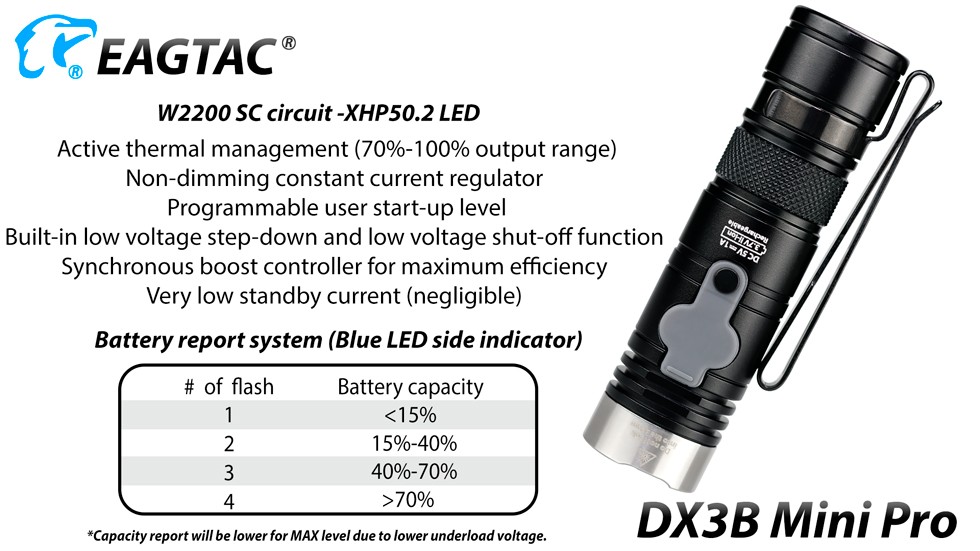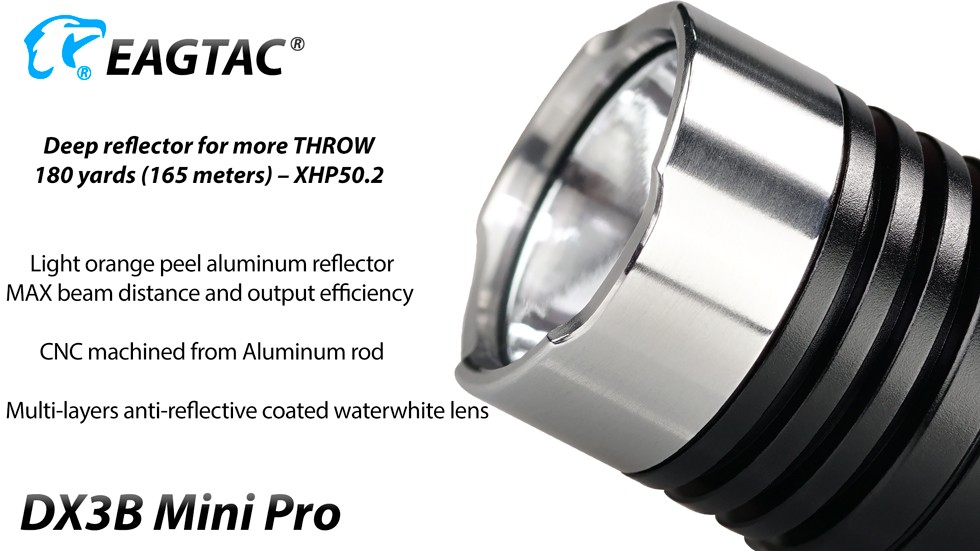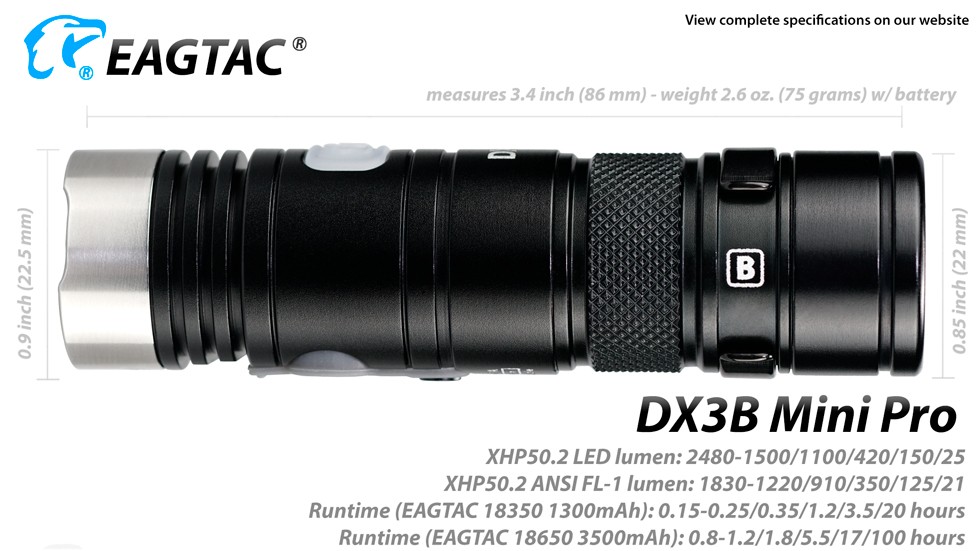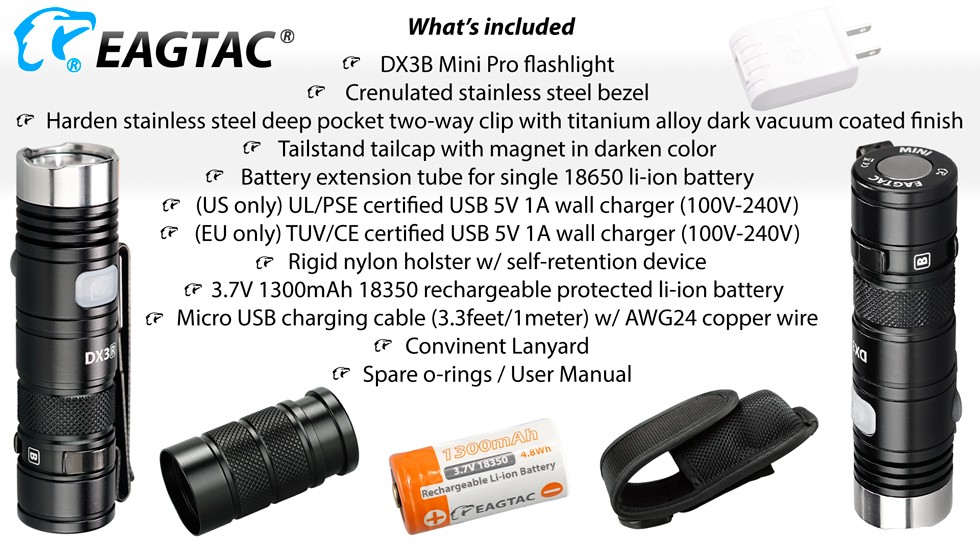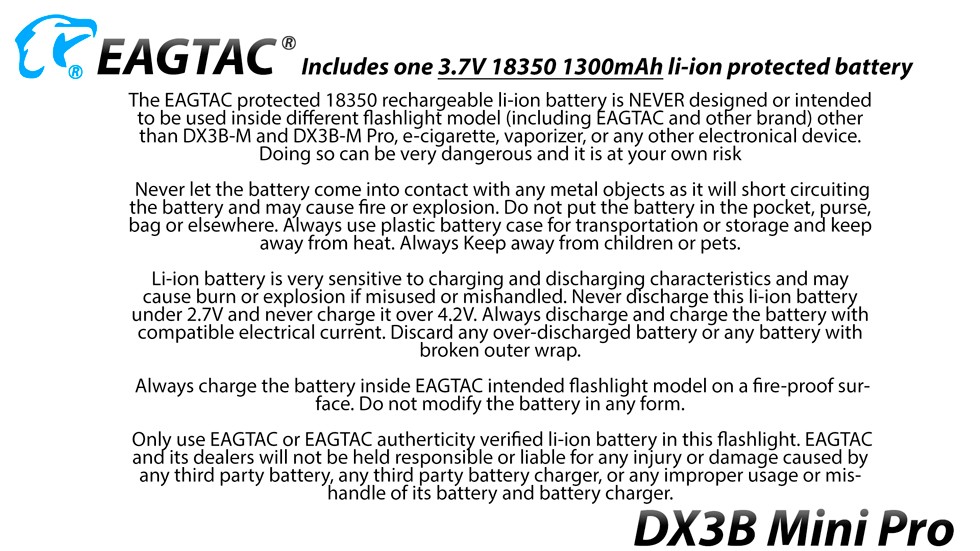 Additional information
Performance
| | |
| --- | --- |
| LED | CREE XHP50.2 K2 Cool White LED |
| Max output | 2480 LED lumen /1830 ANSI lumen |
| Center lux @ 1 meter | 6,800 lux |
| Beam distance | 180 yards / 165 meters |
| Output levels | 2480-1500/1100/420/150/25 LED lumen /1830-1220/910/350/125/21 ANSI lumen |
| Runtime | 0.8-1.2/1.8/5.5/17/100 hours |
Battery
| | |
| --- | --- |
| Battery Type | 18350*1 |
| Battery included | – |
| Built-in rechargeable | – |
| Operating voltage | 2.7V – 4.2V |
| Battery requirement | – |
Control
| | |
| --- | --- |
| Control Type | – |
| Hidden auxiliary outputs | Beacon (1.67Hz) |
Dimensions
| | |
| --- | --- |
| Body Diameter | 0.85 inches (22 mm) |
| Head Diameter | 0.9 inches (22.5 mm) |
| Length | 3.4 inches (86 mm) |
| Weight w/ battery | 2.6 ounces (75 grams) |
Constructions
| | |
| --- | --- |
| Flashlight Body Material | HAIII hard anodization aerospace aluminum |
| Lens | Harden waterwhite glass lens with anti-reflective coating on both side |
| Reflector | Smooth aluminum reflector |
| Waterproof | IPX-8 |
Optional LED1
| | |
| --- | --- |
| LED (1) | CREE XHP50.2 J4 Neutral White LED |
| Max output (1) | 2310 LED lumen /1700 ANSI lumen |
| Center lux @ 1 meter (1) | – |
| Beam distance (1) | – |
| Output levels (1) | 2310-1400/1030/390/140/23 LED lumen /1700-1140/850/325/120/19 ANSI lumen |
| Runtime (1) | – |
How to use?
operations:
Turn on the light at MAX output by pressing and holding the on/off switch button
Turn on the light at LOWEST (programmable) output by pressing and release the switch button quickly (within 0.5 second)
(UPDATED) To program the LOWEST startup output, switch to the desired output level and WITHIN ONE SECOND switch off and on the flashlight for three times. In rare occasion user may experience the absence of lowest output level from a brand new purchase. If this is case, set the programmable startup level once will initialize the memory setting and will take care of this issue once and for all.
To turn off the light anytime, press and release the on/off button switch while it is on.
To switch between output levels, with the light turned on, press and hold the on/off switch for longer than 0.5 second to switch to next output. Press and hold the switch will cycle between all levels.
To access AUX blinking mode, with the light turned on, cycle through at least two sets of regular brightness level to enter.
Charging:
Remove the waterproof silicon cap and insert the charging power plug to charge.
Blue side LED indicates the battery is being charged. It reports charging percentage by blinking.
Includes
Included items:

Optional accessories: